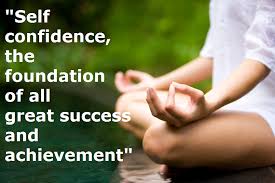 Are Introverts Less Confident Than Extroverts?
 When does perception become reality and what has this got to do with introverts and extroverts? I believe that the general perception of introverts is that they aren't as confident as extroverts and this unfortunately gets in the way of their success in life. Introverts are often slow to respond when asked a question. It takes them a while to speak up in classrooms or team meetings and they often seem uncomfortable at parties. Because of this perceived lack of confidence introverts may miss out on important job opportunities. And when compared to extroverts, introverts often appear less self-assured causing human resources leaders to ask themselves, "Why are they hesitating?" or "Do they really know what they are talking about?"
Being confident can open doors and make life more interesting and fun. But what is confidence?
Google defines it as "the feeling or belief that one can rely on someone or something" Or, "a feeling of self-assurance arising from one's appreciation of one's own abilities or qualities".
We know it when we see it, or at least we think we do. Some quiet introverts may be very confident but are comfortable spending time thinking before they answer questions. And some extroverts may use their extroversion as a way of hiding the fact that they are less confident. Nothing is what it appears!
And of course all personality types can lack confidence. It's just sometimes I think that when it comes to introverts our behavior is seen in a negative light. Over the years I have also wondered whether or not my lack of confidence was due to the fact that I spent too much time thinking about things and not enough time taking action. Taking action leads to increased self-assurance. Too much time thinking (worrying?) has the opposite effect and doesn't go unnoticed.
"I'm an extrovert and those I live with are introverts. I've come to learn that they have a different sort of confidence to my own, one that comes from inner strength that can be developed no matter how difficult it may seem at first." Rebecca Perkins
How can we become more confident? There are no easy answers but the following suggestions from Rebecca Perkins and Brian Roet are a good place to start:
Develop your self-awareness. This is perhaps the most important and the most challenging. But fulfilling our potential and being successful really does start with a solid foundation. Knowing who you are, your strengths and what you want to achieve in life are some of the areas to explore and develop. There are endless ways of doing this and a number are covered in my book The Dynamic Introvert: Leading quietly with passion and purpose.
Quit judging yourself: This is a difficult one. Is there anyone out there who doesn't judge themselves? On the positive side judging oneself can lead to self-awareness but not if we only see the things we don't do well or compare ourselves with others and end up feeling inadequate. If we were lucky to grow up in a family that accepted us and encouraged us even when we made mistakes, we are more likely to feel good about ourselves and less likely to judge ourselves harshly.
Use your strengths: We all have different strengths. The trick is discovering the ones that are uniquely yours and then building on them. This relates to the first item on this list, "Develop your self-awareness". Some people are fortunate to know what their strengths are early on in life for others this knowledge comes later. Sometimes we are steered in the wrong direction by well-meaning parents or teachers and end up working in jobs that aren't the right "fit". I once met a woman whose husband kept pushing their introverted son to join team sports, against the son's wishes. She was concerned about her son's wellbeing and was looking for information to give to her husband to help him understand their son's introverted nature.
Challenge yourself: Our confidence increases the more positive experiences we experience. If you are quiet and don't feel confident in groups you may need to learn how to speak up in order to be heard. But be gentle with yourself. Rome wasn't built in a day. You are in this for the long term and your confidence will increase with each successful experience.
I'll leave you with this quote from Dr. Brian Roet,
"Confidence helps you achieve your potential; achieving your potential helps your confidence." – From The Confidence to Be Yourself.