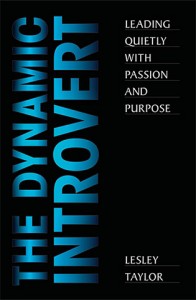 Dynamic introverts are succeeding in all walks of life and rewriting what it means to be an introvert in the 21st century. Introverts make great leaders: many CEOs of our most successful companies are in fact introverts. Discover how you too can succeed.
The Dynamic Introvert is a practical guide to maximizing your leadership potential. Each chapter contains self-coaching questions and practical advice to help you achieve your career goals.
What will you learn?
As a leader you can inspire and engage others by listening to their ideas and helping them connect their passion with the larger vision that you are trying to achieve. Your tendencies as an introvert can be your strengths as a leader.
Order your copy of this unique leadership development book for introverts NOW!
PURCHASE The Dynamic Introvert